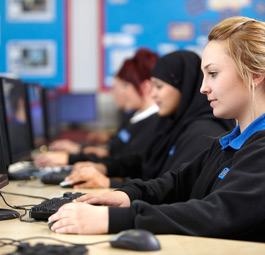 Flexible online learning
Thousands of pupils in hundreds of schools across England and Wales have found success with engaging online learning from vision2learn for schools.
First and foremost, our distinctive brand of e-learning
aims to help hard-to-reach 14-19 year olds engage, stay
motivated and achieve more. With our focused curriculum
model of GCSE, Level 1, 2 and 3 vocational courses and
key resources we can create new opportunities for this
vulnerable group of learners.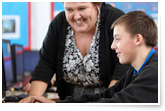 Inclusive
and
engaging
Our aim is to make education relevant for all learners – the disengaged, the pre-NEET and the borderline Level 1 learners who could so easily learn to fail. With vision2learn for schools' interactive online learning environment your pupils can achieve practical work-related qualifications online – accredited by national awarding bodies like OCR, NCFE, Pearson and City & Guilds – and prepare for a range of GCSEs too.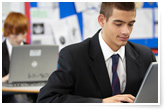 Personalised
online
study
Pupils can study online at home or at school to master new skills, build on existing knowledge and gain vital qualifications that still count this year and in the 2014 performance tables. The platform can also be used to brush up on key skills for work and life, including maths, English and IT. A full suite of 'Learning to Learn' resources provides a fresh look at how we learn and prepare for assessments and exams. Check out our new GCSEs too!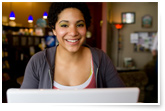 Engaging
adult
learning
Parents, would you like to gain vital skills and qualifications by studying for free through a government-funded online course? Working with our further education partners, we can help you fit online study flexibly round home and work commitments to gain Level 2 qualifications. Take an interest in your child's online learning and gain really useful IT or work-related skills that will enhance your CV. Register today!
At a glance...
Flexibly deliver nationally recognised vocational qualifications and resources online
Flexible and inclusive curriculum solutions for all learners
Full training and on-going 100% customer support at no extra cost
Encourage the step up from Level 1 to Level 2 and Level 3
Use our blended learning approaches to enrich your GCSE curriculum
Make the grade – get a practical, relevant qualification
Practise and master new skills
Gain skills for work and life
Get back on track with your learning
Take control of your studies
Learn more about vision2learn
Study for free on an online course
Register at www.vision2learn.net
Learn at home in your own time
Boost your skills and CV
Learning platform
Students, teachers and administrators login here